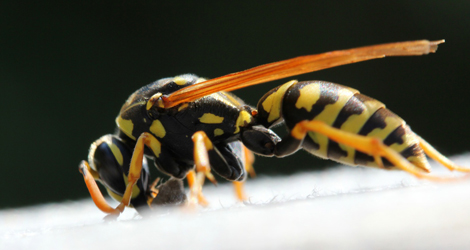 Are you looking for a skilled and professional wasp removal service? Then you have come to the right place! At Simcoe Pest, we are committed to delivering the most effective and safe wasp removal service in Simcoe. Being stung by a wasp can be extremely painful and sometimes it can be life-threatening as well. So, if you find a wasp nest near your home, make sure you contact us for a quick and permanent solution.
Our professionals have been doing this for the past many years now and know how to get the job done right. Our trained professionals are well-equipped to remove wasp nests in a safe and efficient manner. Be it residential or commercial property, we are ready to resolve your pest problem. We go the extra mile to meet the expectations of our clients.
Why Are Wasps Dangerous?
Wasps can be extremely dangerous if you try to prevent their nests. They use their long stinger to attack which can cause immense pain. Moreover, their stings can cause rashes, allergy or other health issues. It is advisable to avoid going near their nests and call our experts immediately for help. Our professionals use safe techniques and products to deliver excellent results in less time. We thoroughly inspect the property before starting with the procedure. We make sure that you, your family and pets are at a safe place while we perform our treatment.
Why Hire Us?
A Team Of Qualified Pest Exterminators
We are a team of fully-trained and well-equipped pest specialists who are geared up to ensure your safety.
Safe & Effective Treatments
We make sure to use safe and effective treatments that can deliver the best results with a minimal disruption to you.
Guaranteed Solutions
We will make many visits to your place to ensure that the problem has been resolved permanently.
Fast & Effective Services
Our professionals understand that every pest issue is different. That's why, we customize our solutions to offer quick and effective results.