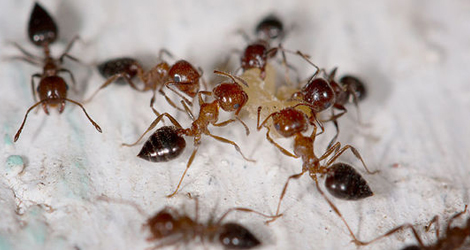 Ants are tiny and notorious pests that can be easily seen crawling in the kitchen and yard. They are found globally and throughout the seasons. Though ants don't pose any deadly harm to anyone, they are responsible for contaminating the stored food items.
Simcoe Pest is a locally owned and operated ant control company serving the areas of Simcoe Region with effective ant extermination service. For past many years, our licensed exterminators are proudly assisting the local residents in getting rid of unwanted ant infestations for a long term.
What We Specialize At?
When it comes to safe and reliable ant control in Ontario, you can put a trust on our specialists. We utilize the latest products and sprays that are safe for your family and pets. We stand beside our ant removal services and ensure effective results. Our services include:
Ant Baiting
Ant Inspection
Ant Trapping
Ant Control
Ant Extermination
Ant Prevention
How We Do It?
At Simcoe Pest, we provide each of our customers with 100% satisfied services for ant eradication from homes and businesses. With years of experience and unrivaled knowledge, we provide you the right comfort without any fear of pests.
After you call us for service, one of our exterminators will reach your place to know about the severity of the pest invasion. Once we are sure that there are ants, we'll work to identify their species and eliminate them using eco-friendly products.
What Makes Us The Right Choice?
If you are looking for a leading and trustworthy pest extermination service provider in Ontario, our all team at Simcoe Pest is here to help. We realize the worth of living in a pest-free home and strive to make sure you won't have to deal with ants anymore. Some reasons to choose us include:
Licensed Exterminators
Quality Control Methods
Emergency Service Whenever Possible
Same Day Removal Whenever Possible
100% Satisfaction Guarantee
Affordable Treatments